OBD-II PDA Visor based Scan Tool
| | | | |
| --- | --- | --- | --- |
| Графики напряжений обоих Heated Oxygen Sensors (HO2S) | B1S2- напряжение HO2S после катализатора (idle) | Тоже при ускорении двигателя (acceleration) | Опережение зажигания при ускорении двигателя |
После подключения (фото), считаны следующие SAE diagnostic trouble codes (DTC).

P0110 - при отсоединении разъема датчика температуры воздуха,

P1656* - при отсоединении разъема клапана управления переменным газораспределением (VVT-i). I read this code if had disconnect connector from control VVT-i valve.

*Manufacturer code
A 2000 Infiniti Q45 LHD (made in USA) с двигателем VH41 (аналог RHD CIMA), 13915 mile.
Продолжает гореть после заведения лампа MIL... Считаны следующие коды самодиагностики (DTC) и получены следующие данные датчиков содержания кислорода: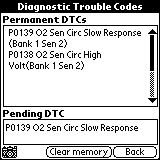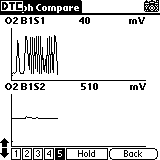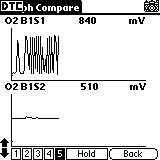 Т.е. ECM "видит" неисправность электрической цепи датчика (*Bank1 Sensor2), что подтверждается анализом его выходного напряжения.
*Oxygen sensor, bank one, side two. Expressed in millivolts (mV). This is the oxygen sensor downstream from the catalytic converter on bank one. Many (if not most) systems only use one downstream oxygen sensor, regardless of how many upstream sensor they have. In this case, the single downstream sensor is referred to as B1S2.
Other systems may have dual exhaust with a catalyst on each bank in which case there are multiple downstream oxygen sensors.
The downstream oxygen sensor is used to infer catalytic converter efficiency by comparing the oxygen activity on the inlet and outlet side of the catalyst to deter-
mine it's oxygen storage capability. There should be much less downstream oxygen sensor activity than upstream if the catalytic converter is operating efficiently.
| | |
| --- | --- |
| With CJII I read in a ' 97 Toyota Camry with 1MZ-FE 3.0 L Engine (VIN-code 4T1BF28KOWUO...) DTC P1410 (malfunction EGR valve position sensor). | |
Поиск (Search on Site)