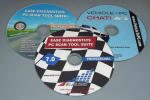 My EASE PC-based Scan Tool
[Page for Reconstruction (as "beta")]
Please, don't Linked
Take a lock my Article about it Scan Tool in http://alflash.com.ua/story.htm (EASE OBD-II PC Scan Tool is the best PC-based Tool for Diagnostic)

Toyota/Lexus/Scion)
By Version V.6.0.6.0 I had mini-bug: not correct reading of PID MAF (at gr/s):
Dear David, You send to me the special Program, and I will send to You in Online the Data from my Notebook during check this Matrix and other Cars (in and from my aftermarket Sevice Shop in my City Odessa) and by my WEB-camera (in Online Mode).
I'm sorry about my poor (self-learn) English.
Note. I will try send to EASE the trace files (in .eer format)
The PIDs from Avalon 2006MY
Note. In order to Enhance OBD function on vehicles and develop the Off-Board diagnosis system, CAN communication is introduced in this system (CAN: Controller Area Network). It minimizes a gap between technician skills and vehicle technology. CAN is a network, which uses a pair of data transmission lines, spanning multiple computers and sensors. It allows a high speed communication between the systems and to simplify the wire harness connection.
This Avalon's ECM uses ISO 15765-4 for communication protocol. The terminal arrangement of the DLC3 complies with SAE J1962 and matches the ISO 15765-4 format.
Camry
E.g.EASE OBD II Hand Held QuikCodeTM
"Story of the Month": http://alflash.com.ua/story.htm
DATALIST/ACTIVE TEST AVENSIS Supplement (RM 045E) SFI SYSTEM (2AZ FSE)
The Concept Gasoline Direct Injection Engine
2006-2018